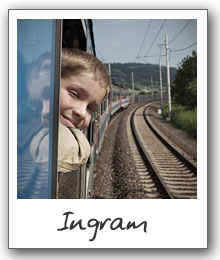 Ingram is a fearless outdoorsman with a sense of humor. He's definitely the silliest of the Trio and loves to make little kids laugh. He is also an origami fiend who can fold a paper parrot in record time. Ingram has an ability to meet just about anyone. Often, while at a restaurant or other public venue, he just disappears, only to be discovered entertaining a crowd of adults and children. He has been found on several occasions holding the attention of twenty or more strangers with his funny stories, advice or demonstrations.
Ingram's dream destination is Africa.
He has visited Austria, Belgium, Bosnia-Herzegovina, Croatia, the Czech Republic, France, Germany, Hungary, Mexico, the Netherlands, Poland and Slovenia. He has lived in London, England and the Slovak Republic.