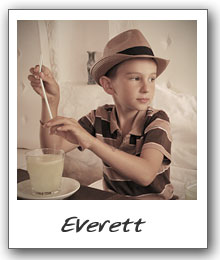 Everett is a true actor and all-out ham. He is full of life and able to make anyone laugh. He also loves to set out into the woods to discover nature. He collects fossils, minerals, bones and just about anything that can be examined with his magnifying glass. He even has his own drawer at the Texas Memorial Museum in Austin which houses his collection of donated fossils. Everett is also talented at creating technical drawings of his discoveries and conducting research on them. He'll talk your ear off if you let him.
Everett's's dream destination is China.
He has visited Austria, Belgium, Bosnia-Herzegovina, Croatia, the Czech Republic, France, Germany, Hungary, Mexico, the Netherlands, Poland and Slovenia. He has lived in London, England and the Slovak Republic.